April 25th, 2008 Filed Under Concept
Ontstaan: bestaand programma vervangen van verouderd platform.
Oorsprong: Windows98 + Foxpro 2.6. (data in files op server, proprietary IDE)
Wordt: desktop RAD op Linux: Gambas (v2.x), goedkope database op server (MySql op Linux).
Doel: opvolgen van de kosten van eenheden binnen een bedrijf.
Meeste kost komt binnen als factuur:

De factuur kan kosten bevatten voor verschillende afdelingen, produkten, lijnen (costcenter).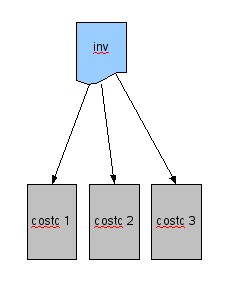 Per costcenter wordt een totaal gemaakt: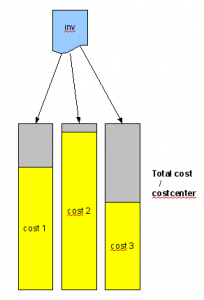 Een fijnere onderverdeling is mogelijk, zoals onderscheid tussen de plaats van de cost en de aard van de cost.
Bv: produktielijn 1 : producten (grondstoffen) en hulpmiddelen, aankopen en investeringen, personeelskost, andere.
Bovendien kan nu een factuur binnenkomen waarvan je het bedrag wil verdelen over dit - en een aantal toekomstige jaren: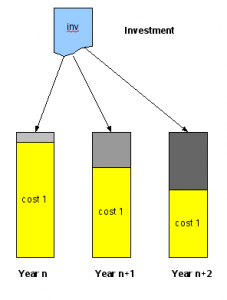 Beantwoorden van:
- wat is totale kost inkomende facturen voorbije jaar?
- wat is die totale kost tot nu toe van het huidig jaar, per afdeling?
- wat is de kost door investeringen die al rust op volgende jaren?
wordt hiermee mogelijk.
Naast facturen kunnen ook andere kosten gelden (lonen, belasting, financiele, ..), dus nabewerking van de cijfers is nodig.
(images: wig, OOo, KSnapshot)
April 24th, 2008 Filed Under Wrk
080424 - redesign Assign visable/not, extended data of invoice, ClsInvoice
080423 - storing the invoice data, order of screenelements
080422 - check invoice complete + incomplete explanation in error
080421 - head+detaillines show in lsbx
080414-8 - detailline and heafdline define and adjust tabel
080407 - Number of suppliers: 172?? but combobox contains more? : list is loaded 2 x
080404 - result available on higher level? or.. ?? OK: make res on higher level, let it fill by procedure in mod with as returnvalue the resultset.
080403 - Load Todo text from file "Todo.txt" in Data folder : is not a folder!